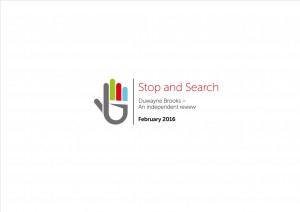 Northants Police and Crime Commissioner has published Duwayne Brooks' independent review into Stop and Search reform in Northants Police.
Northants Police held a consultation into the perceptions and views of communities around the use of Stop and Search powers in January 2014. As a result, the following changes were made to Stop and Search procedure in the county:
Proactively handing out Stop and Search forms when the tactic is used – more than legislation requires
Establishing a Reasonable Grounds Panel to assess all searches
Commissioning Northamptonshire Rights and Equalities Council (NREC) to provide officer training
Trialling the use of body-worn cameras to identify areas of improvement
Retraining officers who have misused Stop and Search tactics
One year on from the consultation, use of Stop and Search in Northamptonshire is down by 43% and the force were also awarded the international Daniel Wagman Award, for commitment to managing social diversity.
Mr Brooks – the Deputy Major of London's critical friend on Stop and Search and formerly one of the most stopped and searched individuals in the country – praised the improvement in police engagement with young people in the county and made a series of recommendations for further improvements in delivery of the procedure.
Click here to read the report in full.